Vi är ett ungt familjeföretag fokuserat på att leverera en rolig, lärorik och personlig ölupplevelse. Vårt mål är inte bara att låta dig och dina vänner ha kul, utan även att dela med oss av allt underbart med tjeckisk öl som vi har kommit att älska. Vi anser att kvalitetsöl är till för alla.
Vårt team består av dedikerade öldrickare som vi är mycket stolta över att arbeta med. Vi är redo att visa dig det bästa av tjeckisk öl!
Sarah
General Manager / Ölguide
Sarah är utbildad konstnär och engelsklärare. Hon skapar våra turer, ölprovningar och ansvarar för vår företagsadministration. Efter att ha växt upp i Ohio, föddes Sarahs nyfikenhet på öl när hon bodde i Žižkov, ett ölfyllt grannskap i Prag. Som huvudguide anser hon att kvalitetsöl är till för alla att avnjuta. Sarah älskar att prova nya ölsorter och säger "Jag provar vilken öl som helst en gång, men vad gäller de bästa ölen så dricker jag ett seriöst antal glas". Med det sagt beundrar hon komplexiteten hos öl som Orval och syrligheten hos "sours", men återkommer gärna till ett välhällt glas av färsk Pilsner Urquell.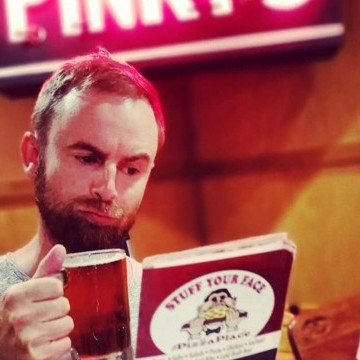 Daniel
CEO, Founder
Daniel är ursprungligen från Gävle och är grundaren av Prags Pub & Ölguide. Hans tjeckiska rötter är kanske förklaringen till hans osläckbara törst efter ljusa tjeckiska lagers, vilket han utan tvekan har ärvt från sin far. Daniel är vår händiga webbutvecklare och marknadsförare. Han strävar alltid efter att göra vår webbplats lättare att använda, lägger till nya funktioner och uppdaterar vår design, för det mesta med ett glas mikrobryggeriöl i handen. Vad gäller Daniels favoritpub är atmosfären det viktigaste. Daniel uppskattar pubar med en "upbeat vibe", och de bästa är de som kombinerar den grottlika tjeckiska källarbaren med lite av en "amerikansk party-atmosfär".
Cally
Ölguide
Cally är ursprungligen från Edinburgh, Skottland, och är en entusiastisk hemmabryggare. Hon har bott på båda sidorna av Atlanten och är nu nöjd med att kalla Prag sitt hem. Vad hon dricker beror på årstiderna. När hon får frågan om vad som är hennes favoritöl, svarar hon: "Det är en väldigt svår fråga, och på många sätt ändras svaret alltid. Jag skulle inte satsa på en kall lager mitt i vintern, och om jag hittar något jag verkligen gillar dricker jag inte mycket annat på flera veckor. Med det sagt, det är inte mycket som slår en riktigt bra pint av Belhaven Best, det kanske inte är den mest spännande craft brew ölen, men det är en öl som passar vid varje tillfälle och det smakar som hemma."
Sam
Ölguide
A country boy assimilated to city life - Sam was born on a community farm in western MA, raised in Nigeria, grew up in the Shenandoah valley of Virginia and then migrated North to Bar Harbor, Maine. Beer is one of the many pleasures in life that allow him to feel connected with the regions that surround him. As much as he enjoys discovering new IPA's, he says, "I find lots of frustration looking for the right one, they're becoming too experimental and overrated". But no matter what season/occasion, he simply loves a crisp, fresh saison or proper pilsner. For a proper pub, ambiance is key. Besides the food menu, the two most important things is a rotating tap and music, although a jukebox never seems to be inviting.
Joanna
Ölguide
A lover of linguistics, literature, gardening, and connoisseur of beer, Joanna originally moved to Prague to study Czech language and literature. If she's not on the prowl for Prague's newest and coolest venues, she'll be found at home with a cozy cup of tea and good book. When contemplating her favorite kind of beer, Joh says, 'I think at this point I've come a full circle; from my initial love of Czech lagers, through the hoppiness of ales and IPAs, as well as absolutely surprising world of lambic, I'm back with a lager in my hand. If I had to choose one, I'd go simple - with Únětická Dvanáctka, unfiltered and unpasteurized.' As for a good bar, she wants rotating taps, fridges overflowing with choice, good music and furniture, but she astutely observes that all of that jazz is meaningless if the right people, clients and staff, aren't there to enjoy all of these things, 'All good bars have souls'.
Kontakta oss
We're happy to answer any of your questions! We'll get back to you shortly!